Dr. Helena Flores, Ph.D.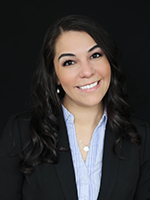 Email: [email protected]
Dr. Helena Flores is a licensed clinical psychologist in the state of Indiana and New Jersey. She earned her Ph.D. from Indiana University and completed an APA-accredited pre-doctoral internship within the Department of Corrections in Austin, Texas.
With a specialization in forensic psychology and populations facing severe and significant trauma, Dr. Flores has developed extensive training working with patients who are struggling with a variety of mental health concerns, including suicide and self-harming behaviors, personality disorders, serious mental illnesses, mood disorders, behavioral disorders, and survivors of human trafficking. Additionally, she is highly skilled in delivering comprehensive assessments to individuals at different stages of development and their respective families. Dr. Flores's vast experience extends to providing family therapy and supporting parents in navigating the school's special education system. She is certified in Trauma-Focused Cognitive Behavioral Therapy (TF-CBT) and has completed over three years of Dialectical Behavior Therapy (DBT) training through Marsha Linehan.
Apart from her clinical work, Dr. Flores is an active member of the New Jersey Chapter American Academy of Pediatrics (NJAAP) Anti-Trafficking Task Force, and regularly participates in educational speaking engagements. She is deeply committed to staying abreast of the latest research and techniques in the field of psychology to provide the best possible care to her clients.
Dr. Flores' mission is to empower individuals and their families by providing compassionate support, instilling hope, and creating personalized plans that recognize each person's unique strengths, needs, and goals. With her specialized training and expertise, Dr. Flores can help individuals navigate the complex world of mental health and forensic psychology with skill and sensitivity.